PRODUCTS
CHENTA is your best partner in gearing resolutions.
In-line Helical Gear Reducer (R series)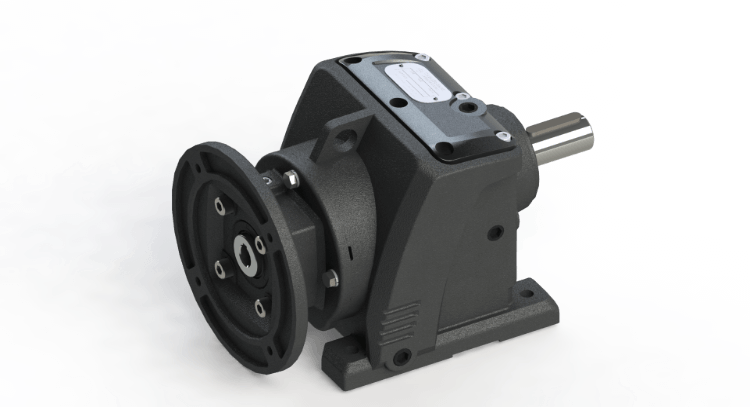 FEATURES
DESIGN CONCEPTS: the combination of standardization and modularization allows interchangeability with international leading brands, while keeping structure rigidity and compactness.
ENERGY EFFICIENCY: leveraging the advantage of high accuracy of helical gears, the reducers perform at 90% efficiency with higher stability and lower noise level.
RATIOS COVERAGE: 1~3 stages of reduction provides a wide range of ratio accommodation from 1/1.3~1/27788.
LOADING CAPACITY: available with power ranges from 1/4hp up to 150hp depending on different requirements and applications.
TENSILE STRENGTH: pinion and gears are made with 20CrMo alloy steel plus carburizing heat treatment to enhance performance; the input pinion is equipped with double bearing support to provide stability at high speed.
COMPLETE SERIES: vertical and horizontal mounting along various input mechanism ensure the products meet a wide range of applications.
INSTALLATION FLEXIBILITY: all models are designed for a choice of mounting position (M1~M6) specified by customers.
APPEARANCE AESTHETICS: the products are designed with modern exterior while maintaining high rigidity.
| Size | Output-Shaft [mm] | M2 [Nm] Max | I - Min | I - Max |
| --- | --- | --- | --- | --- |
| R17 | 20 | 85 | 4.05 | 79.85 |
| R37 | 25 | 218 | 4.2 | 119.93 |
| R47 | 30 | 332 | 4.05 | 120.20 |
| R67 | 35 | 495 | 3.96 | 123.20 |
| R77 | 40 | 634 | 4.03 | 116.13 |
| R87 | 50 | 1803 | 4.06 | 117.17 |
| R97 | 60 | 2903 | 4.00 | 115.43 |
| R107 | 70 | 5468 | 4.00 | 115.50 |
| R137 | 90 | 7997 | 4.04 | 117.25 |
| R147 | 110 | 11368 | 4.16 | 117.29 |
| R167 | 120 | 17346 | 3.93 | 178.17 |