PRODUCTS
CHENTA is your best partner in gearing resolutions.
Shaft Mounted Reducer (SMD series)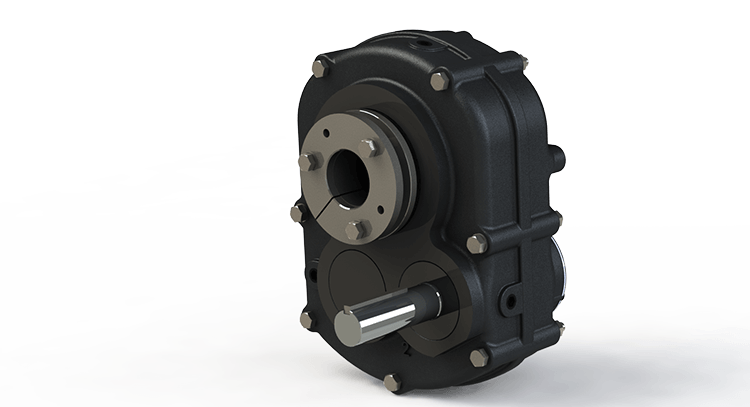 FEATURES
Product configurations: Torque-Arm and Screw Conveyor- quickly/easily exchangeable.
Performance capability: appliances through 300HP.
Accessories package: backstops, bushings, torque arms, drive shafts, and adapters.
Rugged cast-iron and ductile iron housing.
High efficiency helical gear designed, 98% per gear stage.
Robust shafts in precision machined and hardened.
Magnetic drain plug attached for protection.
Proven seals with metal reinforcement for robustness.
Reliable anti-friction bearings with tapered roller design for box size 3-9 and with ball design for size 2.
Rigorously tested before shipment.
MODEL
CLASS I
CLASS II
CLASS III
POWER
(HP)
OUTPUT
(RPM)
OUTPUT TOEQUE
(IN-LB)
POWER
(HP)
OUTPUT
(RPM)
OUTPUT TOEQUE
(IN-LB)
POWER
(HP)
OUTPUT
(RPM)
OUTPUT TOEQUE
(IN-LB)
SMR2-1/9
7.5
85-105
5035-4076
5
85-105
3357-2717
3
85-100
2014-1712
10
105-150
5435-3804
7.5
110-150
3891-2853
5
105-150
2717-1902
15
160-200
5350-4280
10
150-200
3804-2853
7.5
160-200
2675-2140
SMR2-1/15
2
16-24
7065-4710
1.5
18-24
4710-3532
1.5
26-34
3261-2493
3
26-45
6521-3768
2
24-34
4710-3324
2
38-58
2975-1949
5
49-74
6143-3819
3
38-70
4462-2422
3
58-100
2923-1695
7.5
78-105
5434-4037
5
70-105
4037-2691
5
105-140
2691-2018
10
105-140
5382-4037
7.5
110-140
3853-3028
SMR2-1/25
0.5
4-6
7065-4710
0.33
4-5
4663-3730
0.25
4-5
3532-2826
0.75
6-8
7065-5298
0.5
6-8
4710-3532
0.33
6-8
3108-2331
1
8-10
7065-5652
0.75
8-12
5298-3532
0.5
8-12
3532-2355
1.5
12-16
7065-5298
1
12-16
4710-3532
0.75
12-16
3532-2649
2
16-24
7065-4710
1.5
18-24
4710-3532
1
16-24
3532-2355
3
26-45
6521-3768
2
24-34
4710-3324
1.5
26-34
3261-2493
5
46-74
6143-3819
3
38-47
4462-2422
2
38-58
2975-1949
7.5
78-85
5434-4987
5
70-85
4037-3324
3
58-85
2923-1995
MODEL
CLASS I
CLASS II
CLASS III
POWER
(HP)
OUTPUT
(RPM)
OUTPUT TOEQUE
(IN-LB)
POWER
(HP)
OUTPUT
(RPM)
OUTPUT TOEQUE
(IN-LB)
POWER
(HP)
OUTPUT
(RPM)
OUTPUT TOEQUE
(IN-LB)
SMR3-1/9
10
85-105
6714-5435
7.5
85-105
5035-4076
5
85-105
3357-2717
15
110-140
7782-6114
10
100-140
5707-4076
7.5
110-140
3891-3057
20
150-200
7609-5707
15
150-200
5707-4280
10
150-200
3804-2853
SMR3-1/15
3
28-30
6055-5652
2
16-24
7065-4710
2
24-38
4710-2975
5
32-50
8831-5652
3
26-46
6521-3686
3
40-70
4239-2422
7.5
52-74
8151-5728
5
50-74
5652-3819
5
74-105
3819-2691
10
78-105
7246-5382
7.5
78-105
5434-4037
7.5
110-140
3853-3028
15
110-140
7707-6055
10
100-140
5652-4037
SMR3-1/25
0.75
4-5
10597-8477
0.5
4-5
7065-5652
0.5
6-7
4710-4037
1
6-7
9419-8074
0.75
6-7
7065-6055
0.75
8-10
5298-4239
1.5
8-10
10597-8477
1
8-10
7065-5652
1
10-16
5652-3532
2
12-16
9419-7065
1.5
12-16
7065-5298
1.5
18-24
4710-3532
3
18-30
9419-5652
2
16-24
7065-4710
2
24-38
4710-2975
5
32-50
8831-5652
3
26-46
6521-3686
3
40-0
4239-2422
7.5
52-74
8151-5728
5
50-74
5652-3819
5
74-85
3819-3324
10
78-85
7246-6649
7.5
78-85
5434-4987
MODEL
CLASS I
CLASS II
CLASS III
POWER
(HP)
OUTPUT
(RPM)
OUTPUT TOEQUE
(IN-LB)
POWER
(HP)
OUTPUT
(RPM)
OUTPUT TOEQUE
(IN-LB)
POWER
(HP)
OUTPUT
(RPM)
OUTPUT TOEQUE
(IN-LB)
SMR4-1/9
20
85-105
13427-10870
15
85-115
10071-7443
10
85-115
6714-4962
25
100-135
14267-10568
20
110-150
10376-7609
15
120-150
7133-5707
30
120-160
14267-10700
25
140-190
10190-7509
20
160-200
7133-5707
40
160-200
14267-11413
30
170-200
10700-8560
SMR4-1/15
5
18-24
15699-11774
3
14-22
12111-7707
3
20-34
8477-4987
7.5
26-34
16303-12467
5
24-34
11774-8311
5
38-54
7436-5233
10
38-54
14873-10466
7.5
38-54
11154-7849
7.5
58-80
7308-5298
15
58-80
14616-10597
10
54-80
10466-7065
10
80-140
7065-4037
20
80-110
14219-10276
15
85-115
9973-7372
25
100-140
14219-10092
20
110-140
10276-8074
SMR4-1/25
1
4-5
14219-11303
0.75
4-5
10597-8477
0.5
4-5
7065-5652
1.5
5-7
16955-12111
1
5-6
11303-9419
0.75
5-6
8477-7065
2
6-8
18839-14129
1.5
6-8
14129-10597
1
6-8
9419-7065
3
10-14
16955-12111
2
10-12
11303-9419
1.5
10-12
8477-7065
5
16-24
17661-11774
3
14-22
12111-7707
2
14-18
8074-6280
7.5
26-34
16303-12467
5
24-34
11774-8311
3
20-34
8477-4987
10
38-54
14873-10466
7.5
38-54
11154-7849
5
38-54
7436-5233
15
58-80
14616-10597
10
54-85
10466-6649
7.5
58-85
7308-4987
20
80-85
14129-13298
MODEL
CLASS I
CLASS II
CLASS III
POWER
(HP)
OUTPUT
(RPM)
OUTPUT TOEQUE
(IN-LB)
POWER
(HP)
OUTPUT
(RPM)
OUTPUT TOEQUE
(IN-LB)
POWER
(HP)
OUTPUT
(RPM)
OUTPUT TOEQUE
(IN-LB)
SMR5-1/9
25
78-95
18291-15018
20
78-105
14632-10870
10
78-80
7316-7133
30
85-115
20141-14887
25
100-135
14267-10568
15
85-105
10071-8152
40
110-150
20752-15218
30
120-160
14267-10700
20
110-135
10376-8454
50
140-180
20381-15852
40
160-200
14267-11413
25
140-160
10190-8917
60
170-200
20141-17120
30
170-200
10071-14267
SMR5-1/15
7.5
22-24
19267-17661
7.5
24-34
17661-12467
5
24-34
11774-8311
10
24-34
23548-16622
10
38-54
14873-10466
7.5
38-52
11154-8151
15
38-54
22309-15699
15
58-80
14616-10597
10
57-80
10466-7065
20
54-78
20932-14491
20
78-110
14491-10276
15
85-110
9973-7707
25
70-965
20184-14873
25
100-125
14129-11303
20
110-125
10276-9043
30
85-115
19947-14743
40
110-125
20551-18085
SMR5-1/25
2
4-5
28258-22606
1.5
4-5
21194-16955
1
4-5
14129-11303
3
6-8
28258-21194
2
5-6
22606-18839
1.5
6-7
14129-12111
5
10-14
28258-20184
3
8-14
21194-12111
2
8-12
14129-9419
7.5
16-24
26492-17661
5
16-24
17661-11774
3
14-22
12111-7707
10
24-34
23548-16622
7.5
24-34
17661-12467
5
24-34
11774-8311
15
38-54
22309-15699
10
38-54
14873-10466
7.5
38-52
11154-8151
20
54-78
20932-14491
15
58-80
14616-10597
10
54-78
10466-7246
70-80
20184-17661
20
78-80
14991-14129
MODEL
CLASS I
CLASS II
CLASS III
POWER
(HP)
OUTPUT
(RPM)
OUTPUT TOEQUE
(IN-LB)
POWER
(HP)
OUTPUT
(RPM)
OUTPUT TOEQUE
(IN-LB)
POWER
(HP)
OUTPUT
(RPM)
OUTPUT TOEQUE
(IN-LB)
SMR6-1/9
50
78-105
36581-27175
30
78-90
21949-19022
25
78-95
18291-15018
60
95-125
36042-27392
40
90-120
25363-19022
30
95-120
18021-14267
75
120-200
35667-21400
50
110-150
25939-19022
40
125-150
18261-15218
60
130-180
26338-19022
50
160-200
17833-14267
75
160-200
26750-21400
60
190-200
18021-17120
SMR6-1/15
15
20-26
42387-32605
10
18-26
31398-21737
7.5
20-24
21194-17661
20
26-38
43474-29745
15
28-40
30276-21194
10
26-40
21737-14129
25
34-50
41556-28258
20
40-58
28258-19488
15
45-58
18839-14616
30
45-62
37677-27346
25
52-78
27171-18114
20
62-74
18231-15275
40
62-85
36462-26596
30
66-90
25689-18839
25
78-95
18114-14873
50
78-105
36228-26912
40
90-120
25118-18839
30
95-125
17847-13564
60
95-125
35694-27128
SMR6-1/25
3
4-5
42387-33910
2
4-5
28258-22606
1.5
4-5
21194-16955
5
6-8
47097-35323
3
6-8
28258-21194
2
6-7
18839-16147
7.5
10-12
42387-35323
5
10-12
28258-23548
3
8-12
21194-14129
10
14-18
40369-31398
7.5
14-18
30276-23548
5
14-18
20184-15699
15
20-26
42387-32605
10
18-26
31398-21737
7.5
20-24
21194-17661
20
26-38
43474-29745
15
28-40
30276-21194
10
26-40
21737-14129
25
34-50
41556-28258
20
40-58
28258-19488
15
45-58
18839-14616
30
45-62
37677-27346
25
52-78
27171-18114
20
62-70
18231-16147
40
62-80
36462-28258
30
66-78
25689-21737
MODEL
CLASS I
CLASS II
CLASS III
POWER
(HP)
OUTPUT
(RPM)
OUTPUT TOEQUE
(IN-LB)
POWER
(HP)
OUTPUT
(RPM)
OUTPUT TOEQUE
(IN-LB)
POWER
(HP)
OUTPUT
(RPM)
OUTPUT TOEQUE
(IN-LB)
SMR7-1/9
60
74-85
46270-40282
50
74-100
38559-28533
30
74-80
23135-21400
75
78-200
5787221400
60
90-120
38044-28533
40
85-100
26855-22827
75
110-200
38909-21400
50
105-125
27175-22827
60
125-200
27392-17120
SMR7-1/15
20
18-22
62796-51378
20
26-34
43474-33245
10
16-24
35323-23548
25
22-30
64223-47097
25
32-46
44153-30715
15
26-34
32605-24934
30
26-38
65211-44618
30
40-58
42387-29232
20
38-46
29745-24572
40
38-54
59491-41864
40
58-80
38977-28258
25
50-62
28258-22789
50
50-74
56516-38187
30
62-80
27346-21194
40
85-90
26596-25118
SMR7-1/25
5
4-5
70645-56516
3
4-5
42387-33910
3
5-7
33910-24221
7.5
6-7
70645-60553
5
6-7
47097-40369
5
8-10
35323-28258
10
8-10
70645-56516
7.5
8-10
52984-42387
7.5
12-14
35323-30276
15
12-16
70645-52984
10
12-16
47097-35323
10
16-24
35323-23548
20
16-22
70645-51378
15
18-26
47097-32605
15
26-34
32605-24934
25
22-30
64223-47097
20
24-34
47097-33245
20
38-46
29745-24572
30
26-38
65211-44618
25
32-46
44153-30715
25
50-62
28258-22789
40
38-54
59491-41864
30
40-58
42387-29232
30
62-70
27346-24221
50-74
56516-38187
40
58-74
38977-30549
MODEL
CLASS I
CLASS II
CLASS III
POWER
(HP)
OUTPUT
(RPM)
OUTPUT TOEQUE
(IN-LB)
POWER
(HP)
OUTPUT
(RPM)
OUTPUT TOEQUE
(IN-LB)
POWER
(HP)
OUTPUT
(RPM)
OUTPUT TOEQUE
(IN-LB)
SMR8-1/15
40
20-30
113032-75355
25
20-26
70645-54342
15
18-20
47097-42387
50
28-40
100922-70645
30
22-32
77067-52984
20
20-26
56516-43474
60
34-46
99734-73717
40
32-46
70645-49144
25
28-34
50461-41556
75
45-70
94193-60553
50
40-58
70645-48721
30
34-46
49867-36858
60
50-74
67819-45824
40
50-58
45213-38977
75
66-74
64223-57280
50
62-78
45577-36228
60
78-115
43474-29487
SMR8-1/25
7.5
4-5
105968-84774
5
4-5
70645-56516
3
4-5
42387-33910
10
6-7
94193-80737
7.5
6-7
70645-60553
5
5-7
56516-40369
15
8-9
105968-94193
10
8-9
70645-62796
7.5
7-9
60553-47097
20
10-12
113032-94193
15
10-14
84774-60553
10
10-14
56516-40369
25
12-16
117742-88306
20
14-20
80737-56516
15
16-20
52984-42387
30
16-20
105968-84774
25
18-26
78495-54342
20
20-26
56516-43474
40
20-30
113032-75355
30
22-32
77067-52984
25
28-34
50461-41556
50
28-40
100922-70645
40
32-46
70645-49144
30
34-46
49867-36858
60
34-46
99734-73717
50
40-58
70645-48721
40
50-58
45213-38977
75
45-70
94193-60553
60
50-74
67819-45824
50
62-74
45577-38187
75
66-74
64223-57280
MODEL
CLASS I
CLASS II
CLASS III
POWER
(HP)
OUTPUT
(RPM)
OUTPUT TOEQUE
(IN-LB)
POWER
(HP)
OUTPUT
(RPM)
OUTPUT TOEQUE
(IN-LB)
POWER
(HP)
OUTPUT
(RPM)
OUTPUT TOEQUE
(IN-LB)
SMR8-1/15
50
18-26
156989-108685
30
20-22
84774-77067
25
18-22
78495-64223
60
22-32
154135-105968
40
22-30
102757-75355
30
22-30
77067-56516
75
30-50
141290-84774
50
28-40
100922-70645
40
32-40
70645-56516
60
34-50
99734-67819
50
45-52
62796-54342
75
45-74
94193-57280
60
52-80
65211-42387
SMR8-1/25
15
5-6
169548-141290
7.5
4-5
105968-84774
5
4-5
70645-56516
20
6-8
188387-141290
10
4-6
141290-94193
7.5
5-6
84774-70645
25
8-10
176613-141290
15
8-9
105968-94193
10
6-8
94193-70645
30
10-14
169548-121106
20
10-12
113032-94193
15
10-12
84774-70645
40
14-20
161475-113032
25
12-16
117742-88306
20
14-16
80737-70645
50
18-26
156989-108685
30
16-22
105968-77067
25
18-22
78495-64223
60
22-32
154135-105968
40
22-30
102757-75355
30
22-30
77067-56516
75
30-50
141290-84774
50
28-40
100922-70645
40
32-40
70645-56516
60
34-50
99734-67819
50
45-52
62796-54342
75
45-74
94193-57280
60
52-74
65211-45824