PRODUCTS
CHENTA is your best partner in gearing resolutions.
Bevel Helical Gear Reducer (K series)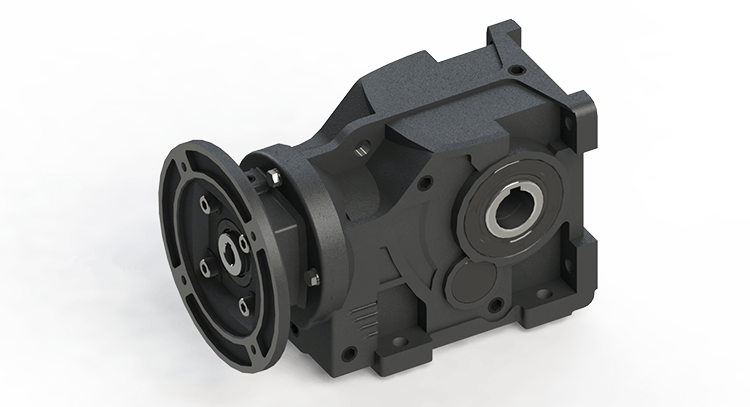 FEATURES
DESIGN CONCEPTS: the combination of standardization and modularization allows interchangeability with international leading brands, while keeping structure rigidity and compactness.
ENERGY EFFICIENCY: leveraging the advantage of high accuracy of helical gears, the reducers perform at 90% efficiency with higher stability and lower noise level.
RATIOS COVERAGE: 3 stages of reduction provides a wide range of ratio accommodation from 1/8~1/215 more than worm gear reducers.
LOADING CAPACITY: available with power ranges from 1/4hp up to 60hp depending on different requirements and applications.
TENSILE STRENGTH: bevel gears and helical gears are made with 20CrMo alloy steel plus carburizing heat treatment to enhance performance.
SPACE EFFICIENCY: 90° transmission and compact configuration for minimizing mounting space.
INSTALLATION FLEXIBILITY: all models are designed for a choice of mounting position (M1~M6) specified by customers.
APPEARANCE AESTHETICS: the products are designed with modern exterior while maintaining high rigidity.
| Size | Output-Shaft [mm] | M2 [Nm] Max | I - Min | I - Max |
| --- | --- | --- | --- | --- |
| K37 | 25 | 200 | 4.73 | 150.47 |
| K47 | 30 | 400 | 5.85 | 130.79 |
| K57 | 35 | 600 | 8.69 | 149.93 |
| K67 | 40 | 820 | 9.66 | 149.56 |
| K77 | 50 | 1451 | 8.40 | 194.36 |
| K87 | 60 | 1602 | 8.27 | 214.50 |
| K97 | 70 | 4300 | 8.31 | 174.75 |
| K107 | 90 | 8000 | 8.67 | 143.55 |