PRODUCTS
CHENTA is your best partner in gearing resolutions.
Helical Worm Gear Reducer (S series)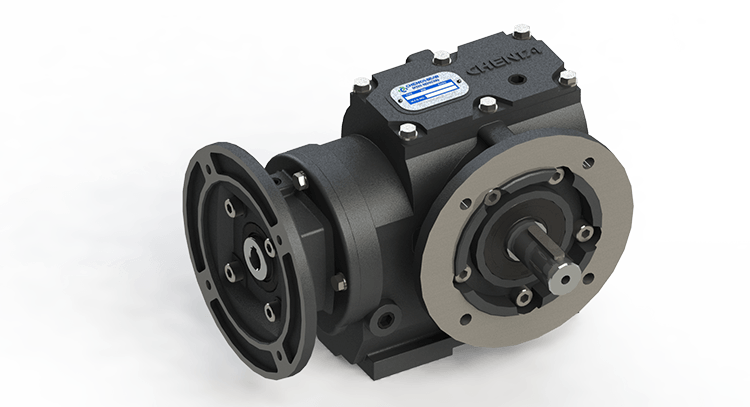 FEATURES
Design Concepts: The combination of standardization and modularization allows interchangeability with international leading brands, while keeping structure rigidity and compactness.
Energy Efficiency: Leveraging the advantages of high efficiency of helical gears and smooth transmission of worm gears, the reducer performs with outstanding stability and efficiency as high as 85%.
Ratios Coverage: The ratio ranges between 1/8 ~ 1/210, providing wide range of ratio accommodation, with 2 stages of reduction.
Loading Capacity: Available with power ranges from 1/4HP up to 30HP, depending on different requirements and applications.
Tensile Strength: Pinion, gears and worm shafts are made with 20CrMo alloy steel with carburization; the aluminum bronze worm wheels offers superior strength and endurance.
Self-Lock: In certain condition, the load on the worm gear can't drive the worm.
Installation Flexibility: All models are designed for a choice of mounting position (M1~M6) specified by customers.
Appearance Aesthetics: The reducers are designed with modern exterior while maintaining high rigidity.
| Size | Output-Shaft [mm] | M2 [Nm] Max | I - Min | I - Max |
| --- | --- | --- | --- | --- |
| S37 | 20 | 76 | 8.00 | 157.40 |
| S47 | 25 | 160 | 7.97 | 201.47 |
| S57 | 30 | 280 | 7.97 | 201.47 |
| S67 | 35 | 480 | 7.70 | 207.90 |
| S77 | 45 | 810 | 9.33 | 189.50 |
| S87 | 60 | 1500 | 8.96 | 174.50 |
| S97 | 70 | 3240 | 9.55 | 231.67 |